Top Reasons to Choose MAX Fitness Boot Camp in Seattle
If you are interested in getting involved in the Max Fitness Boot Camp in Seattle, but are worried that it may not be the right program for you, stop worrying. It doesn't matter what your current level of fitness is. As long as you are willing to put the time and effort into your workouts, you will see a definite improvement in your overall health, and you will start getting stronger and stronger every day. Of course, the first thing you have to do is enroll in classes so you can start working out right away.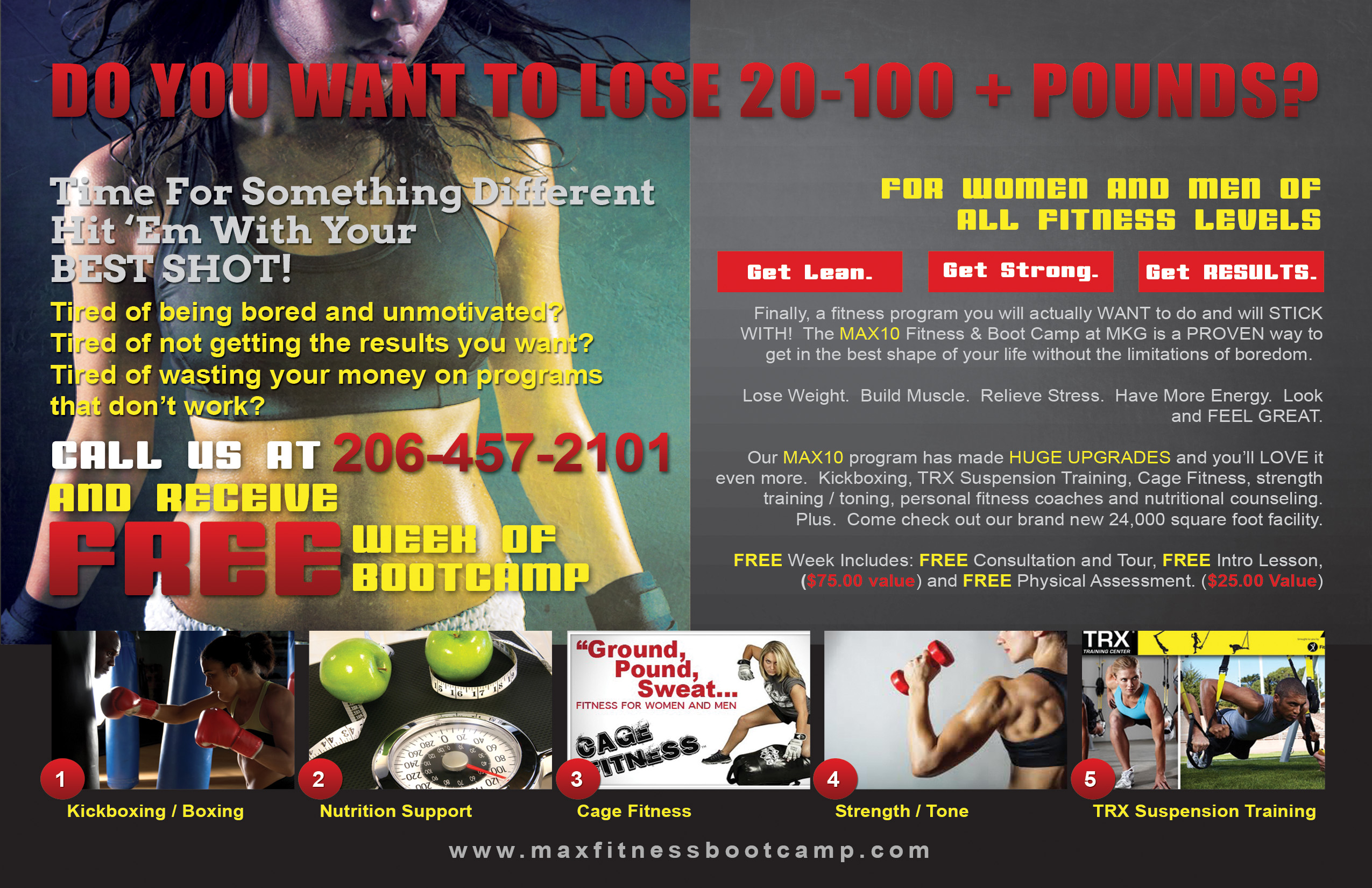 You can get involved with all kinds of different health clubs and fitness programs, but none of them offer what we can, which is total body fitness for everyone.
Some of the best reasons to choose Max Fitness Boot Camp in Seattle are:
Personalized Workouts – We realize that not everyone can do the same type of workouts, for a variety of reasons. Some people are out of shape and need to start out slowly. Others have physical limitations that keep them from doing certain exercises. Your classes at our club will take place in a class setting, but will be personalized to your own needs. We never push you into doing anything that you aren't capable of, but you will probably find that you will start pushing yourself as your skills and confidence increase.
Improved Self-Confidence – As you see your skills improve at the gym, you will also notice that you have a lot more self-confidence. Not only will this help you with your workouts, it will carry over into your everyday life. You will be more productive, and you will feel better about yourself and everything you do.
Better Coordination – If you are someone who tends to be a bit on the clumsy side, our workouts will be great for you. As you learn the various movements and techniques, you will start to gain better coordination. This will help you with everything you do in life, and not just in the gym.
Improved Overall Health – You will be training your body and mind when you are in our fitness boot camp. Not only will you see a marked improvement in your physical health, because of the healing arts you will be learning, you will also find that you have more peace of mind.
Self Defense Skills – One can only hope that they will never be in a dangerous situation, but unfortunately, violent crimes happen to thousands of people in the United States each year. The skills you will learn at our fitness boot camp could save your life someday, because you will have learned the valuable art of self defense.
The only way to learn more about our fitness boot camp Seattle residents can call us locally at 1-206-457-2101 or drop into our studio at 10714 5th Ave. NE. You can also visit our website at http://www.maxfitnessbootcamp.com. Call or drop by to find out about the classes we offer and enroll today so you can be in better shape tomorrow.