A Truly Unique Fitness Program
What MAX10 Boot Camp  in Seattle Can Do for You
You can find all kinds of ways to get into better shape, but if you really want to challenge yourself, you should check out what a fitness program boot camp can do for you. Basically, you will be working out five days a week, for a certain amount of weeks, depending on the program you enroll in. At MKG MAX10 in Seattle, you can get the workouts you really need to improve your overall health and give you that body you have always dreamed of having.
You Don't Need to be Athletic to Start the MAX10 Fitness Program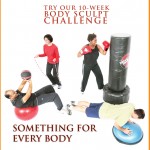 A lot of people think that they need to be experienced athletes, or at least be athletic, to get involved in a fitness program. Actually, these workouts are for people of all fitness levels, so no matter how fit or athletic you are, you can jump right in and start working out. You will receive personal training, which means that your workouts will be geared to your fitness level. As you get into the program, you will start to challenge yourself more and more until you are doing things you never thought you'd be able to do. You are never expected to do more than you are able to, and you will always work at your own pace.
Have Fun and Get in Shape
One of the biggest complaints most people have about exercise is that they really hate doing it. Let's face it, exercise can get boring. Most of the time, we have to force ourselves to go to the gym for a workout, and we don't enjoy the workouts we are doing. You won't have this problem when you are enrolled in a fitness program. All of the workouts are fun and safe, and you will be taught all of the proper techniques that will allow you to enjoy your workouts safely. Our cross-training workouts are loads of fun, and our members enjoy the class setting where they receive personal training that is suited to their individual needs.
Get More than Just Physical Rewards
When you take part in our fitness program in our North Seattle facility, you will get a lot out of it, and we're not just talking about getting into better shape. In each program, the person who has made the most changes or improvements to their overall health and body shape will receive a reward. Other participants receive rewards throughout the program for various things, including participation and class attendance.
When you get involved in our fitness boot camp training sessions, you will notice a marked improvement in the way you look and feel. You will start to feel better about yourself, and you will be in the best shape of your life.
If you are interested in learning more about our MAX10 fitness program boot camp or other programs we offer, you can call us at 1-206-457-2101, or visit our website at http://www.maxfitnessbootcamp.com. You can also drop in and talk to some of our fitness instructors about which program would be best for you.  For our adult martial arts, kids or CrossFit program visit http://www.mkgseattle.com.